What is Phased Array?
Phased Array ultrasonics is an recent development in the method of advanced ultrasonic testing and has an increasing scope of application in industrial non destructive testing. Finding flaws in manufactured materials, such as welds, is a main phased array inspection area.

Using traditional NDT Inspection methods a single element probe is used to emit an ultrasonic beam into the test piece or area, this must then be physically moved to cover larger areas. Phased Array testing uses multi-element probes, each of which can pulse individually and the the beam can be steered electronically through the test piece. As the beam is swept through the inspection subject the data gathered from the multiple beams is compiled and results in a visual image, presenting a "slice" through the object. The speed with which these results are gathered and able to be interpreted or presented is far faster than the more traditional UT inspection methods and radiography.

Portable Phased Array instrumentation and inspection are commercially and technically viable for a wide range of applications including:

Corrosion Cracking
Hydrogen Induced Cracking
Corrosion Mapping

Pipe Weld Testing
Flange Corrosion
Butt Weld Testing
Advantages of Phased Array Inspection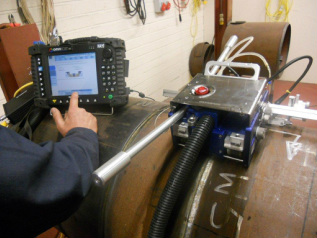 Butt Weld examination using the Olympus Weld Rover and Omniscan.
Phased Array is leading the field for inspection performance and results. Benefits are numerous but the key value adding drivers for employing this inspection technology are:
Safety: Non hazardous, no need for exclusion zones, inspection carried out alongside workforce.
Accuracy: multiple probe elements allow for beam steering, scanning and targeting, using a single instrument, increasing precision.
Flexibility: inspection set ups can be changed within minutes.
Results: S, B and C Scan imaging offers superior data interpretation to that of A-Scans.
Speed: fast sector scanning enables a reduction in inspection time overall. Evidence shows up to five times faster than conventional manual testing; reducing any down-time and costs.
Data delivery: results are recorded instantly for off-line analysis and storage.
Quality control: is increased as real-time inspection results can be produced for welds during the fabrication process.
---
AMK Inspection Services have an established client base and experience in the Inspection and Oil & Gas Industries and re able to provide you with both the personnel expertise and equipment to achieve your quality of service and maintenance targets within the right time frames.
For further information or discussion about your requirements please contact us by email or call 07801 721 329.

---